Silicone RTV
The Room-Temperature-Vulcanizing Silicone Rubber Compound (RTV-1 / RTV-2)
The Room Temperature Vulcanizing Silicone RTV products includes a wide range of solutions related to bonding, sealing, potting, encapsulating, coating and casting silicones. Thanks to WACKER's broad experience in the field of processing techniques and material requirements for RTV silicones, the range of applications is very wide, ranging from home DIY up to the industrial production lines.
RTV Silicone Rubbers – Applications
Automotive industry

E-mobility

Electric industry

Lighting

Food industry

Energy sector

Fire safety applications

Electronics

Healthcare

Aerospace

Mining

Medical applications

Mold making and molding

Transportation

Rubber industry
Excellent long-term thermal resistance from -50 ° C to +180 ° C

Consistent properties over a wide range of temperature and frequency 

Outstanding dielectric properties

Excellent anti-stick properties

Very good adhesion to various substrates

Excellent resistance to weather conditions and UV radiation

High chemical purity and biocompatibility

Low Young's modulus

Long-term flexibility

Selective gas permeability

Water-repellent surface and low moisture uptake

Very good chemical resistance

Chemical inertness

Perfect compatibility with the environment and no harmful effects

Excellent physiological tolerance

Flame resistance
1-Part Room-Temperature Vulcanizing Silicone Rubber (RTV-1)
One-part, room temperature vulcanizing (RTV-1) silicones are ready-to-use systems consisting of polysiloxane, hardener, fillers and additives. Immediately after application, the material begins to cross-link when it comes into contact with moisture in the air. By-products are released during curing. Cross-linking begins with the formation of a skin on the surface of the silicone and gradually progresses into a compound. Depending on the type of crosslinker, vulcanization releases a small amount of acetic acid, amine or neutral byproducts such as alcohol, is released during vulcanization.
RTV-1 silicones are ideal for almost all sealing, bonding and coating applications such as:
Automotive

Electric and electronics industry

Health and medical sector

Textile sectors

Household appliances 
Our recommendation:
ELASTOSIL® E43 TRANSPARENT
is a self-leveling, non-slump to self-levelling silicone adhesive with an acidic curing system, vulcanizing at room temperature under the atmospheric moisture. It shows excellent mechanical properties and has good adhesion to many substrates. Especially used as an adhesive for hardened silicone rubber.
Properties:
No-slump and self-leveling

service temperature from -45 ° C to +180 ° C

maximum short-term temperature exposure of 200 ° C

excellent mechanical properties

good tear strength

very good adhesion to metals, silicone, glass and ceramics

ready to use

solvent free
ELASTOSIL® E60 N GREY
is a flowable, one-component silicone rubber for potting and coating. Under the exposed to air moisture it cures at room temperature to yield a permanently flexible silicone rubber with excellent heat resistance. ELASTOSIL® E60 N GREY has long-term resistance to weather conditions, humidity, UV radiation and temperatures up to 230 ° C (446 ° F).
ELASTOSIL® E60 N GREY is suitable for use in accordance with the recommendations "XV. Silicones" and BfR and 21 CFR § 175.300 "Resinous and polymeric coatings"and FDA 21 CFR §177.2600 "Rubber articles intended for repeated use".
Application:
as a coating for a baking sheet
2-Part Room-Temperature Vulcanizing Silicone Rubber (RTV-2)
Room Temperature Vulcanizing Two-component (RTV-2) silicones are pourable, spreadable or kneadable formulations that vulcanize when mixed together. There are two different types of cross-linking: condensation or addition.
Condensation curing requires an organotin catalyst and always releases by-products.
The addition curing requires a platinum catalyst and generates no by-products.
Special grades of RTV-2 silicone rubber can be vulcanized instantly with UV light. The vulcanization time can be controlled by adjusting the intensity of the UV light and its exposure time.
Like RTV-1 silicones, RTV-2 products are ideal for almost any sealing, bonding and coating application. 
They are used for:
Mold production

For the production of household appliances

Medical and Health-Care Applications

Mechanical Engineering

Industrial process engineering

Lighting technology

Electronics and optoelectronics

Solar and photovoltaic industry
Our recommendation:
WACKER ELASTOSIL® M 4630 and ELASTOSIL® M4635
are pourable, addition-curing, two-component silicone dedicated to the production of molds. These are products for customers who are aware of their highest quality. Thanks to the parameters of ELASTOSIL® M 4630 and ELASTOSIL® M4635, it is possible to obtain a very wide range of complicated castings, while ensuring their repeatability.
ELASTOSIL® M 4630 and ELASTOSIL® M4635 are characterized by:
Very good flow, 

fast and non-shrink cure at room temperature which can be accelerated considerably by the application of heat

Excellent long-term stability of mechanical properties

Possibility of accelerating cross-linking by increasing the ambient temperature.

High tear strength

Excellent stretch and reproduction of copied materials.

Excellent stability of mechanical properties with long-term use.

Excellent resistance to concrete and gypsum mixes.

Approved for food contact with FDA and BfR
WACKER ELASTOSIL® RTV Silicone Table
Parameters of RTV-1 silicones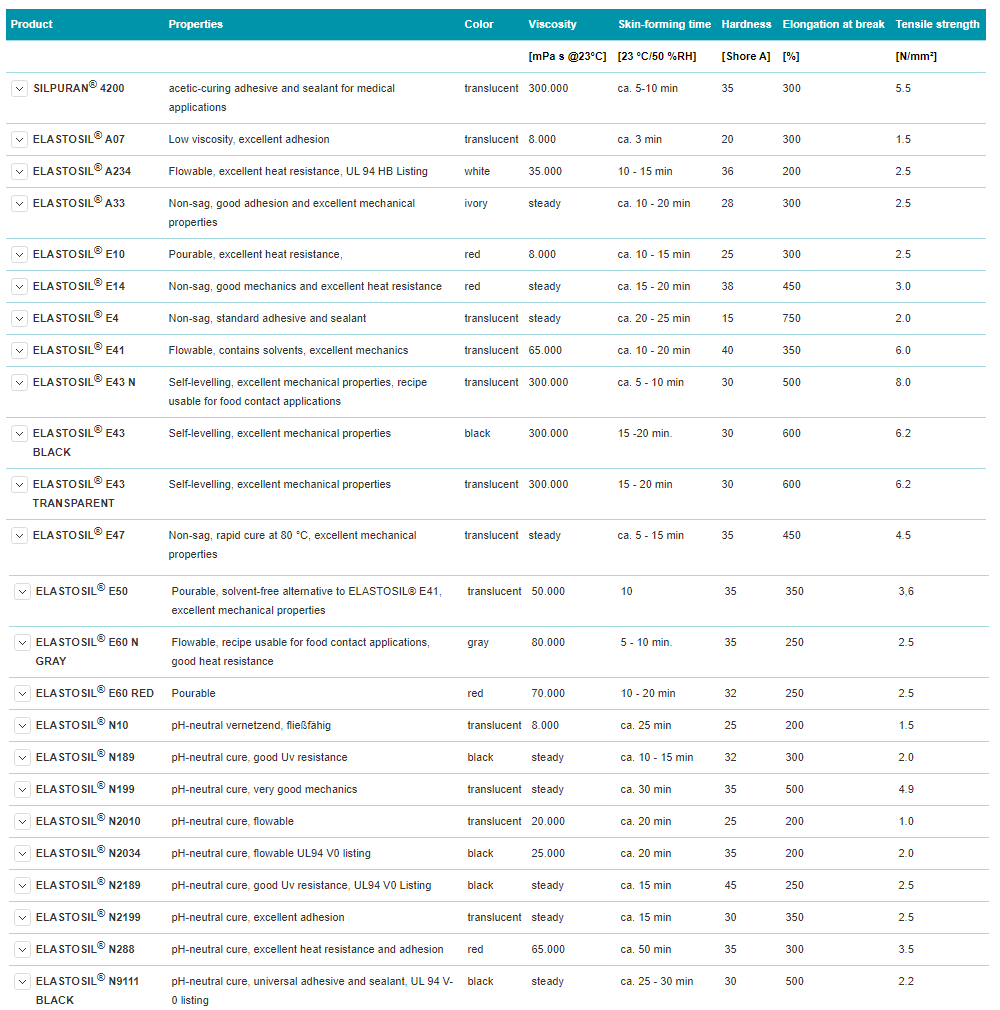 Parameters of RTV-2 silicones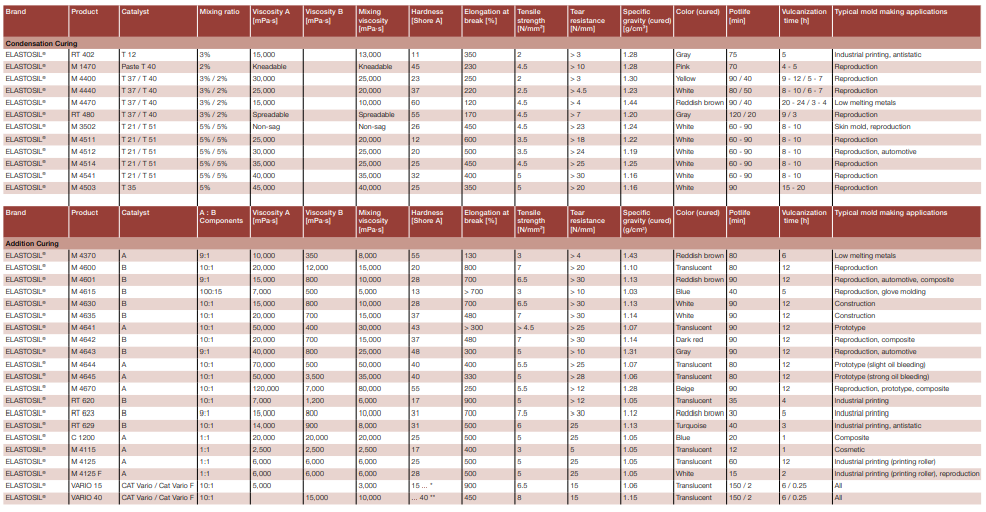 Special features of RTV-2 silicones